Top 5 Football Bets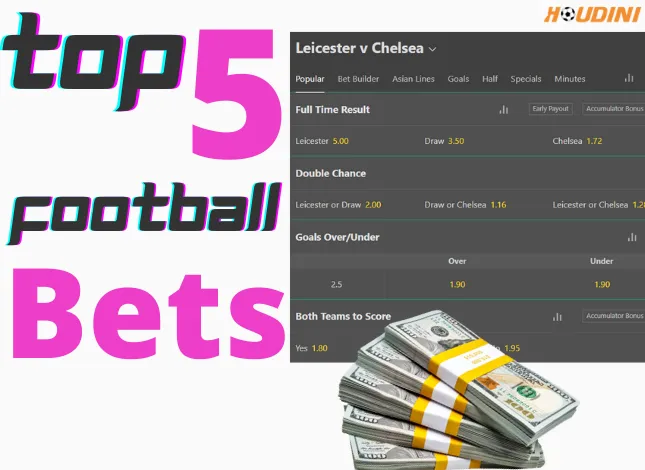 When it comes to making a football bet, a punter is never short of options. Look at any Premier League match from England for example. There are so many markets available, so much choice. It's not uncommon to find well over 100 different betting options for a single game.
Having so much choice is a great thing but sometimes it can get to the point where there is just so much information to pile through. If you aren't being helped along by UK betting tips then it's you against the bookmaker.
You may have collected some free football bets from a bookie and aren't sure what to do with them. You may be itching to place a wager on the weekend's big match.
Keeping things simple, especially as a beginner in football betting, can often be the best approach.
We take a look at the top five football bets that are worth taking a look at because they are straightforward and generally with reasonable odds.
1. Full Time Result
This is really the entry point for any kind of football betting. The match outright is simply making a call on the outcome of a football match and it is the area in which a lot of UK betting tips are focused. The match outright is either a home win, a draw or an away win.

So you have a one-in-three chance of picking the right result. But the odds are never evenly split across all three options. There is going to be a favourite and an underdog and football betting quotes can shift with dropping odds as more and more punters back a particular selection.

As betting markets fluctuate, the key for any match outright betting on UK football is spotting the opportunities where there is the market value at the right time. Simply backing a home win at something like 1/5 odds-on means very little reward for your risk.
2. Both Teams To Score
This is a straightforward football betting market. There are only two options within it. Those are, as the bet name suggests, either backing both teams to score at least one goal in the game, or backing both teams not to score.

A "Yes" selection in the BTTS market (as it is commonly abbreviated to) means that regardless of the match result or scoreline, as long as both teams hit the back of the net in the match, the bet wins.

A "No" selection in the BTTS market has to have only one or neither team score during the fixture. Unlike the match outright because there are only two options in this market, football odds don't tend to stray too far from even money quotes.
3. Over/Under 2.5 Goals
This is another popular type of football bet. If you are expecting the goals to flow in a fixture then the Over 2.5 goals would be supported.
If when sizing up a football match for betting, you see two goal-shy teams facing off against either other, then you might want to play Under 2.5 Goals.

The half goal exists in this football bet type because then the market will be settled because half of a goal can't be scored in real life. Over 2.5 Goals need at least three goals to be scored in the match. Under 2.5 needs less than three.

Like the Both Teams To Score market, the result of the match doesn't matter, nor which team scores the goals. Reading statistics can help punters spot teams that frequently play out low-scoring or high-scoring fixtures.
4. Double Chance
This is a market that falls onto the radar because it offers a little bit of a compromise when considering an underdog for a UK football bet.
Usually, supporting an underdog with a bet in a match is risky because after all, they are the team less likely to win. An example would be a Southampton v Manchester City Premier League fixture from England.

Southampton would be underdogs, but supposing they are in good current form at home with a strong defence, you get a feeling they could do well on the day.
But a Southampton match outright may be still a sizable risk. Instead then a Southampton - Draw Double Chance bet offers a little bit of leeway. This example of a Double Chance bet covers two results in a match, that being a Southampton victory or a draw.

Note that now you are covering two of the three options from the match outright with a Double Chance bet, some odds are going to be sacrificed compared to making a single pick on the match outright. But it's the trade off between a little bit of extra bet coverage.
5. Half Time Result
This is an interesting market because teams are generally a little more conservative in the first half of matches. It's not uncommon to see teams sizing each other out, trying to figure out how to break down a strong defence for example.
With that in mind, going for a halftime draw bet on a game, in what overall looks like being a close contest could be a bet option.

Or if a team has scored 70% of their home goals for the season in the first half of matches, then backing them to win at half time cuts some risk compared to backing them in the full match outright market.
That's because it would be just 45 minutes to nail the correct result, as opposed to the full nail-biting 90 minutes of waiting to see if a bet wins.
| | | |
| --- | --- | --- |
| #1 | Full Time Result | This is really the entry point for an.. |
| #2 | Both Teams To Score | This is a straightforward football be.. |
| #3 | Over/Under 2.5 Goals | This is another popular type of footb.. |
| #4 | Double Chance | This is a market that falls onto the .. |
| #5 | Half Time Result | This is an interesting market because.. |