Make your picks with sure win football predictions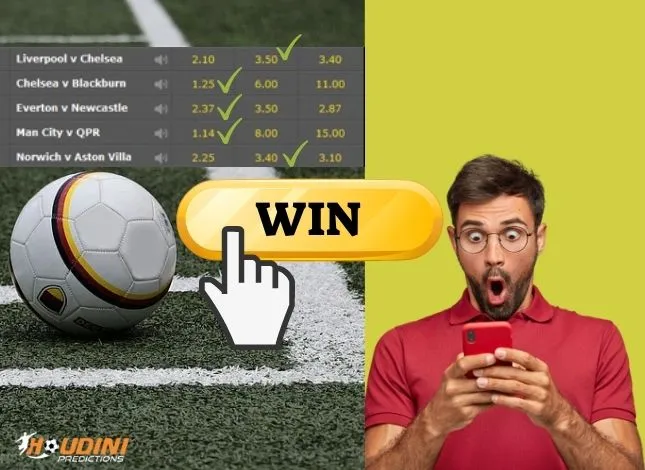 Your betting decisions can be swayed a certain way by a tip, but are there such things as sure win football predictions? As any bettor will tell you there are no guarantees in football betting. But taking a look at predictions that come from a source that has proven high yields of wins, can at least help you to potentially close in on making stronger selections.

Sure win football predictions don't mean that the pick is going to 100% be a winner without fail. That's not something that is possible ever. Any site trying to sell football tips with a 100% guarantee is misleading customers. At Houdini Predictions, all tips are free!

So what are sure win football predictions? They are tips which have an above-average chance of being successful.
What about the odds?
It would obviously be pretty easy to pick out a selection from a Premier League coupon in England, at a long odds-on quote. For example, if you saw Manchester City at 1/10 odds-on for a home game against a relegation-threatened team, then not only the bookies, but most punters would be expecting a comfortable win for the Citizens.

But that 1/10 quote on a football bet in backing Man City is terrible from a betting perspective. So finding sure win football predictions is about finding high probability picks, but at good soccer odds which are worth making a play at.

It's all a balancing act between probability and value when it comes to soocer predictions. Not always is an odds-on favourite in a match outright the best way to go when it comes to making a bet. Maybe it's the draw on a game from England that is looking like the surest of the outcomes to lean towards.
Houdini makes it count
Free registration gets you the best free soccer predictions, and those with the best soccer odds too. The combination of bet picks with high probability and good odds is what the analysis behind the selections that Houdini Predictions make, is all about.

The goal is to pull together the best soccer picks of the day for punters.
While we cast the net wide in terms of the volume of games that are looked at every day to find the picks, only the cream of the crop is presented. It's up to six daily football predictions that are presented on the site for free. That's it. It's not volume, it's quality.
The real sure bet
A real sure bet in sports betting falls under arbitrage betting, where you back each outcome of a fixture at different bookmakers to try and use the discrepancy in odds in your favour. You balance stake across the selections to ensure whichever outcome happens you will return some profit. It's a more complicated process that takes plenty of planning and timing as well. That's because it's about catching the right moments, such as when dropping odds are active, to maximise odds from different sources.

The picks at Houdini Predictions are ideal for use as sure bets because taking a prediction then gives you a platform from which to go and formulate a sure bet. The hard work of engineering the betting tips have already been done. After signing into the site to see the daily picks, then you choose what to do with them.

Put them into a sure bet maybe. Build a multi out of the soccer picks of the day. The choice is yours. There are also completely free live in-play bets that can be selected from, one of the unique angles that Houdini Predictions takes in the approach to soccer predictions.
One thing you can be sure of
Whatever tip you decide to pick and use, you can be sure that it is free at Houdini Predictions. You can also be sure that our tips have been generated from our best insights.

Along with the soccer picks of the day that we provide, there are a plethora of tipsters on the site as well all putting their two cents in. That's some further free insights to be used.

As much as we put into our free daily tips, a sure win football predictions tip can't be guaranteed. No tipster anywhere can offer you that for soocer predictions. But there is a proven track record for users to look at at Houdini Predictions, full transparency from the results of previous picks.