Live Football Betting Tips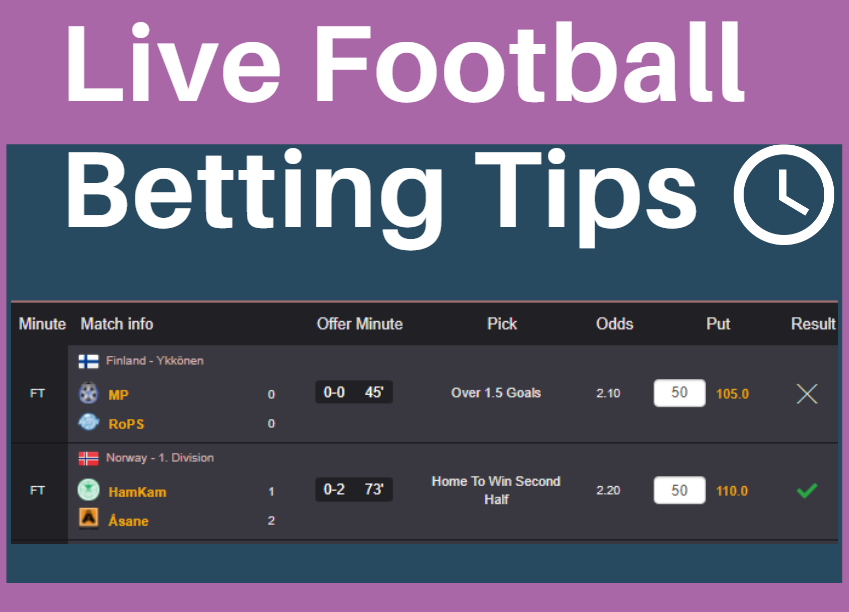 One of the most exciting things about football betting is being able to enjoy the more dynamic side of it with live betting.
Live in-play football betting allows punters to look at a game, examine the action as it is happening and make betting calls on it.
Watching the ever-changing soccer odds on markets while a game is in play is a major staple of football betting, But what about live football betting tips? Those are not such common things to find, but Houdini Predictions deliver them, for free.
The benefits of in-play football betting
Think of a scenario where you have made a pre-match prediction on the outcome of a game. For example, you have placed a wager on Liverpool to win the Merseyside derby against Everton in a Premier League clash. But then early in the match, it is Everton who have raced away to a commanding 2-0 lead.
What then?
It's only twenty minutes into a game and your match outright bet is already looking like a loser. But if you are expecting a stern fight back from Liverpool then you could maybe play the draw in-play.
Other alternatives for in-play football betting would be looking at other selections like Next Team To Score or the correct score, to pull back a little bit of the potential loss from that original match outright.
Figuring out what to do and when is the key component.

In-play betting adjustments
It's these in-play betting adjustments that can make a whole world of difference when it comes to football betting.
Watching a game on TV while sitting there with some live in-play football betting odds at your fingertips, allows a punter to fully judge how a game is going.
During a football match, managers change formations, make substitutions and watching a game, it allows punters to see things like who is probably heading for a red card.
So this is the tremendous, thrilling dynamic of live football betting. But time isn't necessarily always on your side when it comes to finding the best bet.
Especially when you are under pressure of a time crunch because the game is currently ongoing. That's where Houdini Predictions steps up, by providing a unique service of offering live football betting tips.
Live football tips
Having live football tips right at your fingertips can take some of the stress out of finding a selection on a game. That should allow you to carry on watching and enjoying the fixture.
Houdini Predictions monitors the best soccer odds and ploughs through a lot of statistics behind the scenes to provide the best in-play betting tips.
While a game is rolling on, live in-play betting options like the match winner or over 1.5 goals picks are sized up and presented to punters.
Live soccer odds are there to browse through as well, so you can make your own decisions about which live bets to pull towards.
So a lot of the guesswork is taken out of things for the punter thanks to the big feature of football live betting tips at Houdini Predictions.
The value of getting live football tips
Every single football betting tip on Houdini Predictions is free. That is the really big value in getting the most out of the well-researched, high-quality live football tips.
No charge means no eating into profit from the soccer odds. Everything is transparent so you can see the performance of the football picks that have been played as well.
There is free registration to the site and a free entry into a Tipster competition as well for those who want to pit their wits against others for cash prizes.
Live football tips allow for adjustments and for a change of plans while on the fly. Timing is everything when it comes to live football betting for value.
The importance of such tips are not be underestimated.