Could you be the next Top Football Tipster?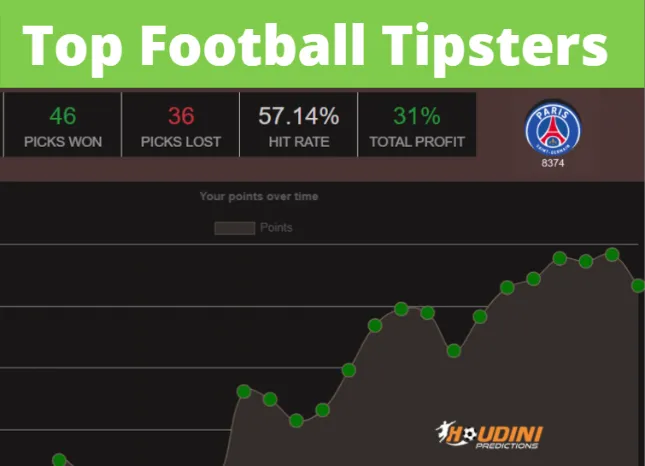 Imagine at the end of a tipping contest that you are bestowed with the title of being the top football tipster. That sounds pretty cool, right?
There is a chance to do that every month at Houdini Predictions by jumping into the Tipster Competition on the site.
That is where players pit their wits against others to try and finish top of the leaderboard in a round of competition.
That is achieved by carefully plotting out how to earn the most profit from football tips today.
How to become the top tipster
To play and put yourself in a position to be the top tipster, you will need to register at Houdini Predictions.
That's quick and easy and most importantly, free to do as well. What is also free at Houdini Predictions are the best betting tips around.
Every single selection that is provided on the site is a free betting tip that anyone can take a look at.
But to try and earn the crown of being the top tipster, then registration on the site is required first.
That's because there are cash prizes to be won at the Houdini Predictions Tipster Competition.

Cash prizes for the top football tipsters
Houdini Predictions gives out cash prizes for the top 7 players on the leaderboard at the end of a round of competition. There is a new Tipster Competition each month.
Players can look at any of the best betting tips of the day that Houdini Predictions has released and then select how that tip is to be played.
To climb the leaderboard in the contest, you will earn points for the amount of profit that is earned from a tip.
While you are playing for cash prizes in the Tipster Competition, no real money stake is being played at Houdini Predictions.
A player selects the tip and what unit of stake is to be applied to that selection. If the tip wins then the value of the profit (returns minus stake) counts towards your leaderboard position.


Tips to become the top tipster
So it is easy and fun. Plus it can also be productive in terms of getting a return from applying your tipster betting skills from football tips today.
A great aspect of the competition is that every player can see everyone else's profile and statistics.
You can see the win rate of any tipster and therefore you can ascertain what any of the in-form tipsters have been doing to be successful.
There is always something to learn in betting, like watching for dropping odds to try and catch a market at the right time, to understanding how to use free football bets in UK betting, to recognizing trends of what other tipsters are doing.
Always do your own analysis, but the option of rolling with any of the tips that other players have already gone for, is there.
Free football tips today and every day!
Houdini Predictions offers the best betting tips, and the quality of the predictions are getting stronger and stronger with each month.
Just like a Premier League player practicing day after day to take better free kicks, through experience Houdini Predictions refine and hone the already high-ratio tips into even better ones for the future.
So the Houdini football tips today to look at are pre-match tips and uniquely, live betting tips which are provided as well.
Then by browsing through the players in the Tipster Competition, you get access to a whole stack of free football betting tips to use in the UK or anywhere.
That gives even more opportunity for punters to study football tips and to try and apply them towards profit when it comes to actual betting with an online bookmaker.