Top 5 - Best Dropping Odds sites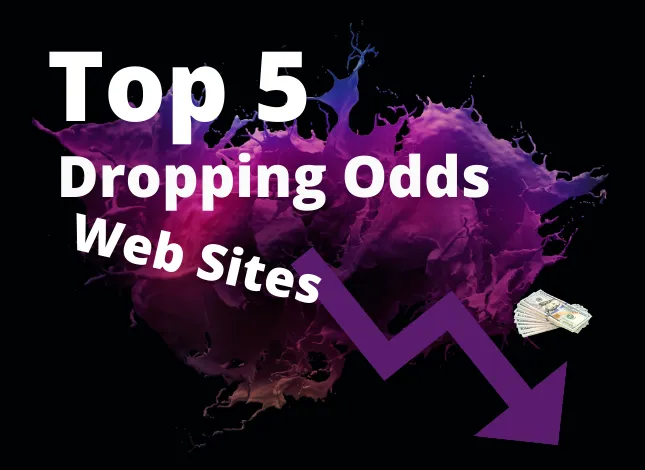 Following some market trends at the best dropping odds site can help you get a good angle on betting decisions.

Because dropping odds indicate how a market is gaining support, then it allows a punter to size up a wager that they may not have spotted.

Alternatively it may indicate that their initial thought about a selection is worth pushing ahead with. Either way, they can be a key element of football betting.
What are dropping odds?
Dropping odds are a market reaction where the odds on a particular outcome are shortening from an earlier mark. As a football betting example of dropping odds, early on Saturday morning Tottenham were trading at 2.10 to pick up a home win in a Premier League match.

But a couple of hours later, the odds on them winning had lost value, sliding into a quote of 2.0 and then an hour before the start of the match, into 1.80 odds-on.

Dropping odds do not just apply to a match favourite, it could be an underdog moving from 4.0 into 3.50 for example.
Finding the best dropping odds site
It is worth exploring dropping odds and to help readers, here are some of the best betting sites at which to find them, along with the reasons why we recommend them.
1. Houdini Predictions
Houdini Predictions is one of the leading sites for the best dropping odds in football betting. There are some excellent details on the site including being able to get notified when odds drop. Filter options can be determined, such as only getting notified when a selection has dropped by 5%.

A free sign-up to the website provides access to that excellent tool and a whole lot more. Everything on the Houdini Predictions site is actually free, including a small handful of select betting tips that are given each day.

So it is not just Houdini Predictions dropping odds that are there to be enjoyed, but other quality features like a free Tipster competition for cash prizes, superb live betting tips and the latest soccer odds.
2. Betshoot
Another site for fast dropping odds is BetShoot which lists a lot of dropping odds markets every day. It's a simple format in that they list football odds for the match outright, over/under 2.5 goals and indicate which of the markets are dropping at least 0.20 in odds. However, there are no notifications of dropping odds and while there is a lot in terms of match variety, it can be overwhelming to scroll through it all.
3. CleverTips
Clevertips is a site that provides some football betting tips and they do only produce a select few per day. They are organised well by Big Odds and Small Odds, so as a reader you can browse through the tips that fall into the right category for you. They do list Clever Tips odds for their selections but do not indicate any dropping odds.
4. Football Dropping Odds
The Football Dropping Odds site incorporates odds from a few major betting sites, so offers a bit of an odds comparison feature for football betting. There are a lot of tips listed each day and they do it organised by a competition A-Z listing. Football Dropping Odds has a good layout that's easy to read, but you will have to do a lot of scrolling to get to La Liga odds from Spain for example and the site lacks any other features.
5. Betting Tips Finder
The Betting Tips Finder site offers both football tips and dropping odds. Their tips are spread wide over various markets like outright, over/under, both teams to score and Low Odds.
The Betting Tips Finder site has a good range of tips listing only odds that have had a sizeable from say from 7.56 to 6.72, or 3.5 to 3.13 odds.
There is no notification tool however and they do mix in their football dropping odds with other sports.
Why do betting odds drop?
Odds can drop for different reasons. It may be the volume of bets that a bookmaker receives on a particular selection, or a major increase in money taken on it. Imagine waking up first thing in the morning and seeing that Steven Gerrard was suddenly a 3/1 favourite to be the next England Manager having previously been at 12/1.

Maybe some early morning speculation in the media, citing insider knowledge had prompted a big rush reaction by bettors in the market causing the dropping odds.

There are a lot of variables with betting of course. Not all bookmakers have the same quotes on a selection and not all betting sites are going to produce dropping odds to the same degree.
Why it's important to catch dropping odds
Catching dropping odds can be used to put together a football betting strategy and it is something to consider. Watching markets and making selections on teams that are starting to drop, indicates that your picks are in line with a lot of other punters thinking.

But noticing early that the odds on a selection are dropping before they get cut even further is one of the key things to look for. It's catching the trend early enough to still get good football betting value before the odds decrease further.

One of the best ways to keep up with dropping odds in football betting, is to set yourself up at one of the best dropping odds sites like Houdini Predictions that can send notifications when the market is shifting in this way.
| | | |
| --- | --- | --- |
| #1 | Houdini Predictions | Houdini Predictions is one of the lea.. |
| #2 | Betshoot | Another site for fast dropping odds i.. |
| #3 | CleverTips | Clevertips is a site that provides so.. |
| #4 | Football Dropping Odds | The Football Dropping Odds site incor.. |
| #5 | Betting Tips Finder | The Betting Tips Finder site offers b.. |