A Look At How To Make Money Gambling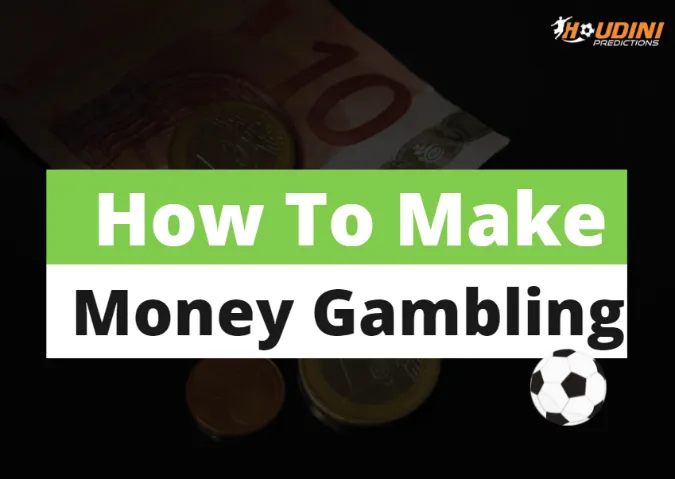 Gambling, having a "punt" or a "flutter" or simply "betting", is something that people partake in, with one goal in mind. That's to make money.
Football betting UK is one of the biggest online industries that there is, and online bookmakers have high turnovers and continue to bring more and more betting options to their customers.

Everyone who places a bet knows the desired outcome. A win. Profit.
But the cool, calm and collected head understands that that is not going to happen every time. So they will be asking how to make money gambling?

Why? Because it's not always as simple as winning every bet every time.
That never happens. But you can take a pragmatic approach of how to make the most out of gambling on football.
Here we break down the best ways to approach betting.


Manage the betting bankroll
Managing the funds that you have to bet with, is perhaps the most important aspect of all when it comes to anything to do with betting on football odds or any other sport for that matter.

There is a general, very simple rule for punters to follow when thinking about online betting.
That is to not bet more than you can afford to lose. It's a simple statement, but an important one to always remember.
Sometimes when it comes to gambling on football, emotions can come into play and extra risks are taken. That's especially true after having watched a bet lose.

But having a steady betting plan and approach can help avoid falling into negative situations. That starts with how much money you are willing to risk.
Plan your betting by budget first and foremost and don't go beyond it, no matter if wins or losses have happened.

Ups and Downs of Soccer Odds and Fortunes
Think about all of the fortunes of football clubs from one season to the next. Every team has their ups and downs.
One minute a team can be winning the Premier League title and then the following season, struggling to record a top-six finish.
Soccer odds go up and down, fluctuating with time and cirustmance. A sudden injury to a star striker could see a team's odds drift to a longer price to win a match.
That's life, there are always ups and downs and the same can be said of sports betting as well.
Sometimes you will flourish with the profit coming in and sometimes it may seem like the losses and bad luck are stacking up against you.
It's important to remember to always stop and assess where you are at and to not fall into traps like chasing losses out of panic.
Having watched a bet lose can spark a reaction of needing to bet more to try and make up for that loss. That's a slippery slope to go down.
Never bet with your gut or your heart.
It may be tempting to always back the team that you support to win a game, even when the statistics such as head to head records go against that.

Plan with tools like Football Tips Today
Following on from that, perhaps you have seen one of the best betting tips around at Houdini Predictions and want to get some football betting done on that pick.
Having high-quality football tips for football betting UK can be a way to steer you in a positive direction. That's because they have a full backing of statistical input and only a select handful of tips are released each day.
Quality over volume is always the best route to go down. Football tips can be part of a sports betting plan.
Such a plan could be, for example, setting a limit on how many tips that you back per day or per week, and having a set amount of stake per bet that you make as well.
Another form of planning is following a system, such as the Martingale betting system. There is no perfect betting system that guarantees consistent wins, no matter what they promise.
But having a map to follow for UK football betting can help guide you, because a betting system will guide you of what action to take next and how much to stake.
It sets out a plan in black and white, of what to do in the instance of a win or a loss, so logic should win out over any emotional reaction.

Understand how to make money gambling
What does this mean? It means understanding exactly what betting is all about, all the different aspects of it. Take some time to fully understand the risks involved.
Learn how to read odds and understand what value they represent.
Study things like free betting and how to make the most of betting offers in the UK, and study up on factors like implied probability.
The more you understand the subject, the more tools that you will have at hand to push towards profit.
Maybe it's through reading the best football tips today and then looking for the very best value that you can take on that option.
At the end of the day, you are betting with real money. It is easy to become detached from that when looking at a computer screen and just seeing numbers.
But that is your funds, your bankroll that you are staking with.
So use all knowledge that you can, read up on the best advice and use tools like systems and maybe the best betting tips to get to you the goal of earning profit.